Why Choose A Panduit Gold Partner?
ICS Services are please to announced that we are now Panduit Gold partners.
Panduit and it's Gold Partners deliver quality products, solutions and services, helping all valued customers achieve their project goals on time and on budget.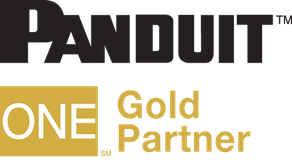 Panduit's innovative products, expertise and experience plus
Qualified, trained, certified Partners to support customers all along the lifecycle
Means superior quality and technology leadership to help YOU achieve YOUR operational and financial goals
Fully Trained & Certified
All Gold Partners are fully trained, certified, subject-matter experts to ensure your projects utilize best practices and comply with industry standards.
Panduit supports its Partners throughout the project life-cycle to understand critical business needs in order to offer YOU the right end-to-end physical infrastructure solutions.
Only accredited Panduit Gold Partners can offer the Panduit® Certification PlusSM System Warranty. This system provides all Panduit customers with the assurance that YOUR new structured cabling system meets or exceeds the Commercial Building Telecommunications Cabling Standard.
Solutions and competencies
The Panduit Gold Partner Program includes solutions and competencies, to enhance our Partners' capabilities and provide all customers with a comprehensive solution tailored to YOUR business requirements.
DESIGN Provides inclusive designs and layouts for optimal solutions
DEVELOP Consults to identify customer needs and provide solution recommendations
DEPLOY Installs Panduit products and implements project plans
Downloads