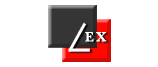 LEX Data Systems has installed a state-of the art Connectix Net 6 structured cabling system at their new offices in Manchester.
The LEX Data Systems network cabling project, completed in time for staff to move into the building in late February 2007, was designed, managed and installed by ICS Cabling Ltd.
The new, prestigious offices are part of the renowned, very stylish, Manchester City Centre development. LEX Data Systems occupies four floors of the six floor building, in a part of the development known as The Clositers.
In order to give the level of high speed, fully integrated communications that LEX Data Systems requires for their sales and customer services departments, they stripped out and replaced the existing floor and ceilings, added the new network cabling and built a new data centre. All four floors were refurbished with new décor throughout, which included new offices, lighting and an air-conditioning system. Ceiling-hung monitors throughout the building keep personnel in touch with the latest news and information.
ICS, which has been an approved installer for Connectix for some years, chose the Net 6 Category 6 system. The Connectix Net 6 Cabling System network for LEX comprised of some 3000 floor outlets flood wired in clusters of four throughout the buildings floorboxes.
The Connectix Cat 6 Cabling System exceeds all category 6 specifications. With bandwidth being one of the single most important communications demands at present, RapidNet achieves 2 times more bandwidth than its category 5 predecessor, by providing 250MHz. It also provides robust application support for today's most advanced networking applications.
ICS was also responsible for the design layout and installation of the LEX Data Centre which contains a neatly housed, typical mix of passive and active floor cabinets. Each cabinet has an attractive all-glass front door with a steel door at the rear. The active cabinets contain CISCO 6509 gigabit switches, connected via a BT 100 megabit Lan Emulation Service. The servers are from Compaq, with very neat fold down and away TFT screens.
ICS was selected as the preferred installer because of their proven track record with LEX and, importantly, because they could provide a fully 'test-certified' Category 6 system.
We are very impressed with the efficient and very neat ICS wiring installation, particularly in the communications cabinets where cabling is visibly exposed but very neat.

We are delighted with our new Head Office set-up. As a company in the communications business, it's vitally important we provide the very best in communications capability. The ICS installation coupled with the Connectix Category 6 cabling product ensures we do just that.
Ashley Roberts (IT Director)