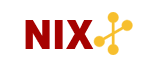 NIX publishing house needed to move offices in November 2006 due to growth and a decision was made to re-locate to a purpose built office block off Cannon Street, London. ICS engaged with the NIX IT support manager to provide a new Cat 6 infrastructure, network and telephone system for their new offices.
ICS designed and installed the Category 6 cabling infrastructure which included Fibre Optic Backbone, Central Equipment Room, On-Floor Patch rooms, Cabinets and Racks, Pathways and Containment as well as work area presentation. A total of 1,200 Cat 6 outlets were installed and ICS chose HellermannTytons RapidNet product as the perfect fit for this project. The installation of the entire Category 6 infrastructure was achieved within a 2 week program which allowed the main contractor and other trades on site greater access around the floors.
On completion of the infrastructure and building works ICS deployed a number of Cisco Catalyst 6509 with added resilience to provide LAN connectivity and inline power. Every active floor port was cabled back to the core 6509, and Cisco 7960 IP Phones were deployed to each desk.
Two highly resilient Cisco Callmanager servers were deployed in a redundant configuration to control all the handsets and a central Cisco Unity server integrated with the mail system to provide unified messaging functionality for the telephone users.
Connections to the PSTN were housed on redundant PRI links and fax machines connected to Cisco ATA 186's. Data and voice VLANs were also created to segregate voice traffic and QoS Configured to ensure voice quality was maintained.
External services were also configured in a highly redundant fashion to avoid outages on failure or key equipment.
'Extension Mobility' was used to allow individuals to log in and out of their telephones, giving them flexibility for add-ons, moves and changes and control over the destination of telephone calls. Attendant Consoles were also used for receptionists to share the load for inbound calls to the main switchboard numbers.
ICS deployed infrastructure engineers to site prior to the move weekend to assist IT staff in the patching of all services within the central equipment and on-floor patch rooms. All work area stations were then checked and any untidy cabling was managed by our on-site engineers.
Recently staff numbers have grown to such an extent that they are adding significant numbers of new handsets, which is easily within the administrative domain of their IT Support Staff, thus reducing the costs of cabling and configuration of a centralised PBX.

ICS's building infrastructure, telephony expertise, technical know how and quick ability to understand and anticipate our needs and requirements helped to make our office move to Cannon Street a smooth and seamless transition. We were all very worried about the move and ICS were there with us every step of the way to ensure it was a pain free operation. We look forward to continuing to work with them as NIX publishing expands throughout Europe.
Rodger Treadgold, IT Support Manager , NIX Publishing